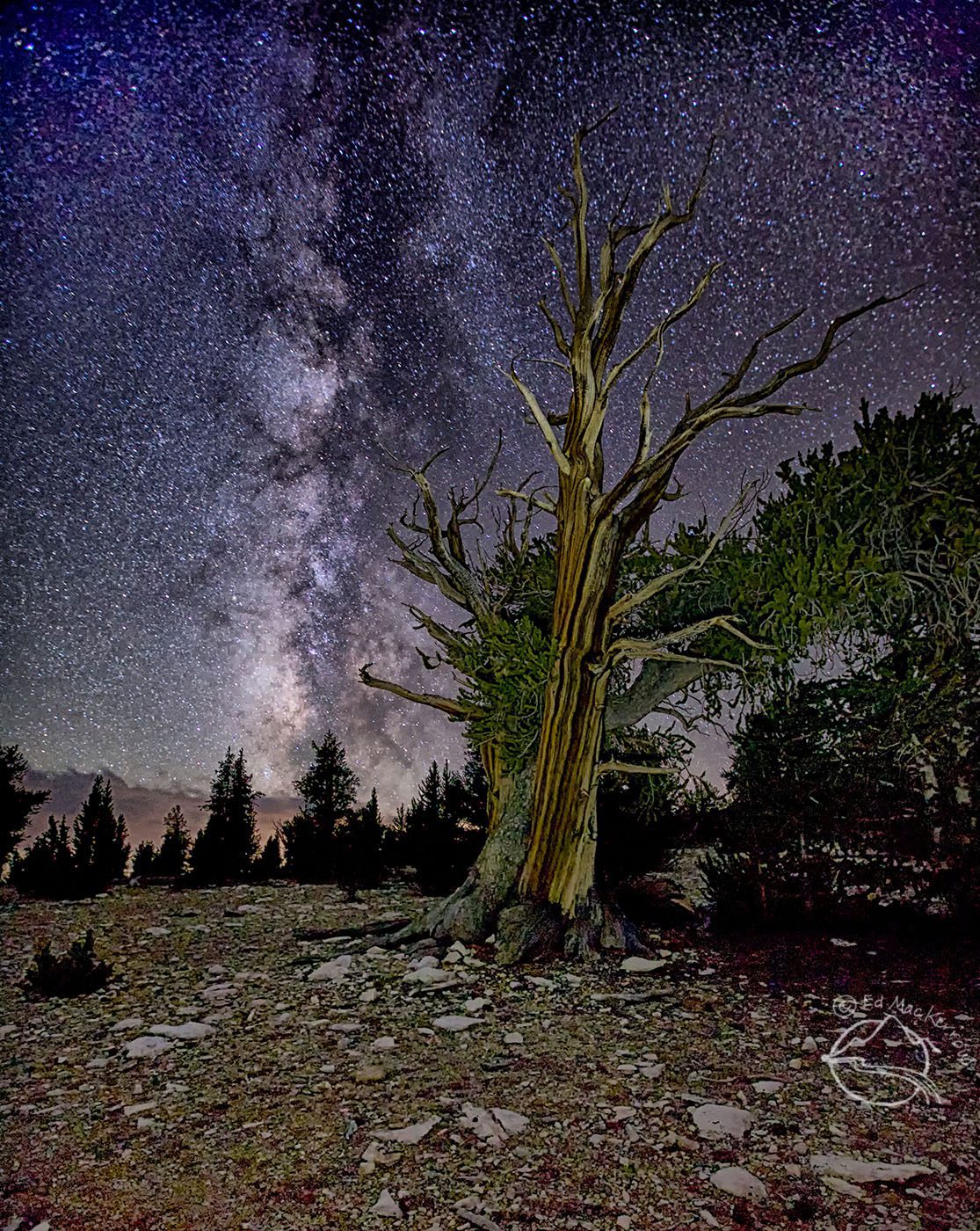 An ancient bristlecone pine enjoys another magical night.
All alone on top of mountain top photographing the moonless night sky can lead to exciting adventures (or as friends would say "edVentures").
I dream of dark moonless nights with no clouds or city lights.  On these nights the stars are mesmerizing.  These nights are hard to come by and the opportunity arises only a few days each month.  Planning nightscape photography is not exact since weather conditions are a wild card.  Like skiing powder days or fly-fishing an insect hatch, nightscape photography requires that you drop what you are doing and go when the conditions are prime.
Being alone in the wilderness at night is not for everyone.  Some nights the boogey man does seem to be watching me out there.  I just get that weird feeling, or instinct, which I often listen to and go home.  On some solo trips doing owl surveys on skis I would get this "sixth sense" feeling and head back in. I could never explain what triggered this instinctual feeling, instead I just acted on it.  (The best-selling book "The Gift of Fear" is an excellent read on what I am talking about).
Late one night while photographing the Milky Way over an arch in Canyonlands National Park the "boogey man" woke me from a nap.  While taking a quick nap I jumped up from a loud voice "HEY NEW MEXICO!!" coming from the darkness.  I could not believe what I heard.  Oh wait, it was something I heard in a dream / nightmare and I simply awoke suddenly.  Take a few deep breaths and get a grip Ed.  Whew…
"HEY NEW MEXICO!!!" echoed again through the canyons.  Yikes!  This time I heard it while awake and I jumped.  Who the heck is calling out "Hey New Mexico"?  Are they calling me?  I was in the middle of Utah, not in New Mexico. I did not know what to do.   There it goes again "HEY NEW MEXICO!".   I decided to call back to this mysterious voice with a loud and authoritarian "WHAT ?? ".  The voice answered back, "TURN YOUR LIGHT ON, I AM LOST".
About 10 minutes after turning on my headlamp a young man anxiously approached me.  He was in a panic attack.  He had seen my truck with New Mexico plates parked at the trailhead.  The poor guy had been wandering around, on the edge of steep cliffs, and could not find his way back to the trailhead.   I described the route back to the trailhead and then realized he needed me to go with him since he was so distraught.
After we reached his vehicle I thought to myself, "How could someone get lost so close to the trailhead?".  We were less than 1/2 mile from our vehicles.
Months later I ventured up into the White Mountains of Eastern California, above Bishop, to photograph the Milky Way in the ancient bristlecone pines.  Some of these trees are the oldest living non-clonal organisms in the world, with ages of at least 5,065 years (germination in 3051 BC) !  The hike would be easy.  I grabbed my pack, headlamp, and photography gear.  It was a cool fall evening up at 11,000 feet.  I decided not bring my winter gear since I was so close to my car.
In places like this it is so quiet that is actually loud.  There is no background noise, just dead silence.  At the feet of these magnificent trees, with their branches reaching up to the stars, I felt that I was in a sacred place — indeed, I was.  These trees had experienced so much over their lifetime.  I wished them well and good luck in surviving the intense record drought that California was experiencing.  It angered me to think these trees might die due to the actions of one species, homo sapiens. The strength of these trees was powerful though, and I could feel it as I hiked around them.
Nightscape photography usually involves taking lots of different images and compositions.  Turning around and around in the dark to get different scenes.  It is sort of like putting the bandanna over your eyes and spinning around when playing "Pin the Tail on the Donkey".  You get very disoriented.  When the temperatures dropped and I became tired it was time to head back to my car.  Hmm…?  Now which way was that?  Suddenly I realized that I was like the lost photographer in Canyonlands!  No GPS with me, no cell phone reception, and it was getting very cold.
As I wandered around trying to find my way back my headlamp would only light so far ahead of me, and everything looked the same.  After stumbling across a foot trail, that had an occasional cairn, I decided to pick one direction to travel on this trail and stick to it.  I thought about how there were some long hiking trails up there and I could be hiking for a long time.  The trails were all loops though, and they all started and ended at the same trailhead.  After an hour long hike, that tested my resolve to stay on the trail, I came to the trailhead and my car — a bit chilled.  A few hours of sleep in my warm sleeping bag felt great before getting up to photograph the sunrise illuminating the bristlecone forest.
People do not plan on getting lost.  My experience is that those short little adventures close to home, or close to the trailhead, are the ones where people get lost.  Now when I venture out into the mountains at night I take a GPS reading of where I parked, and I fully trust my GPS.  A few times I was convinced I was right and the GPS was wrong.  That won't happen!  The best bet though is not to rely solely on a GPS, instead I try to remember the lay of the land, where I parked relative to Polaris, the North Star, and the east, where the sun will rise.  I keep learning as I go, and that adds to the experience of life.
All alone in the mountains under the stars is magical.  Even though some nights I have to tread lightly around the "boogey man", it is worth every minute of time looking up into the heavens and wondering.