Monte Vista Crane Festival
One-Day Photography Workshops
Highlights
Sandhill Cranes perform their elaborate courtship dance in the San Luis Valley of Southern Colorado in the Spring.  We will be photographing the cranes while they perform their dance. Cranes, geese, and raptors will be the main bird species we will concentrate on.  Deer, elk, antelope, and coyotes are also seen in the area where we will be photographing.
The backdrop of the Sangre de Cristo and San Juan Mountains provide a beautiful opportunity for both wildlife and landscape photography.
This photography workshop occurs during the Monte Vista Crane Festival.
The workshop is tailored for beginners with a DSLR camera to advanced intermediate photographers.
5:30AM — 11:00AM

 

Field instruction on the refuge*

*Sunday participants show up at 6:30AM DST, due to the time change on Sunday.
We start our workshop early, at 5:30AM on the refuge, to capture the early morning light.  Please bring some light snacks and a thermos with your favorite warm beverage (no alcohol please). Expect very cold temperatures in the morning (anywhere from -15 deg F to 20 deg F).  Once the sun is up the temperature warms to more comfortable levels.
The morning session will focus on capturing images of wildlife backlit by a mountain sunrise.  The light changes very fast during this time and the action is fast.  Please arrive on time so as not to miss this golden opportunity.
As the morning progresses the class will practice handheld and tripod technique for photographing birds in flight.  Flight photography will focus on cranes, waterfowl, and raptors.
Following the morning session, workshop participants will have a break between 11:00AM and 2:00PM to eat, rest, or explore the refuge more.
2:00PM —   7:00PM Field instruction on the refuge
Our afternoon session aims to photograph the beautiful afternoon light illuminating wildlife on the refuge.  On most years cranes perform their courtship dance at close range — allowing for great photo opportunities. The afternoon lighting also provides for dramatic images of birds in flight against the mountains.
Directions to 5:30AM Meeting Place
Drive SOUTH on CO 15 for 7.8 miles to the Monte Vista National Wildlife Refuge viewing pullout on the EAST SIDE of CO 15.  Drive carefully, it will be dark and there are currently lots of elk, deer, and pronghorn in the area and likely on the road.  The pullout is south of the refuge headquarters.  Click on the map below to go to Google Maps, or use this link for for Google Maps.
Carpooling and Ride Sharing
The pullouts on the dirt refuge roads are tiny!  We will organize into carpools at the morning meeting spot.  It is safe to leave a car there for the day.  If your spouse or friend needs to borrow your car for the day please have them drop you off at the morning meeting spot and we will arrange to bring you back to town at the end of the day.
No Tag-Alongs Please
These one-day photography workshops fill up very fast.  They are intentionally discounted in order to introduce nature photography and the refuge to more people.  Please respect those who have officially registered for the workshop by not bringing your unregistered friend or spouse along with you.  Thank you.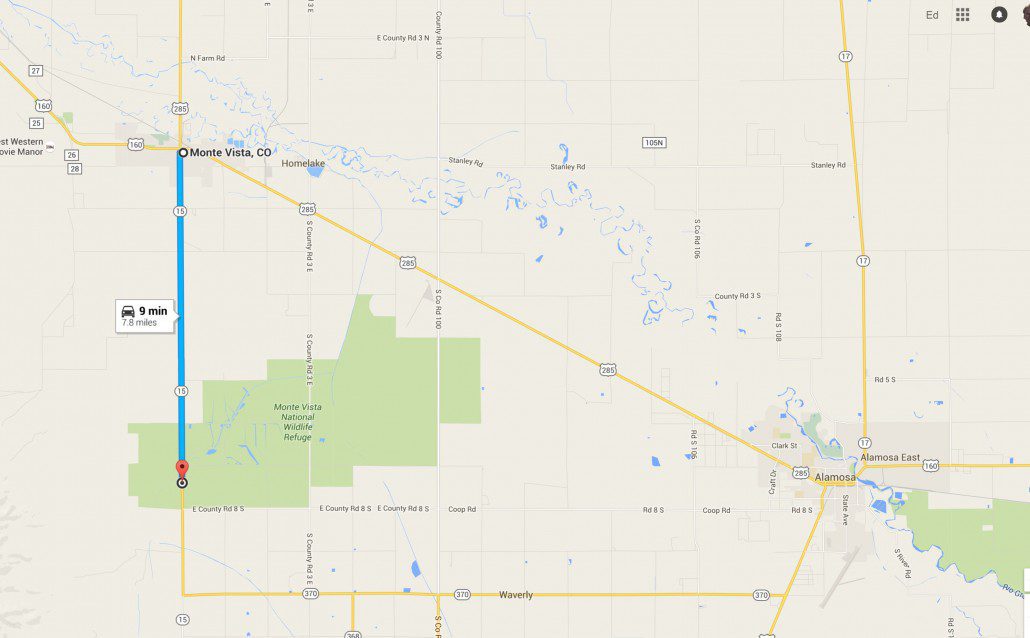 …
Syllabus
We will cover:
Camera settings ideal for photographing birds-in-flight.
Camera settings for photographing wildlife in changing light.
Methods for capturing wildlife images that convey a sense of emotion and context.
How to best utilize your auto-focus system for birds-in-flight.
Handheld photography of birds-in-flight.
Exposure bracketing.
Depth-of-field, shutter speed, and exposure adjustments important to wildlife and landscape photography.
Tripod techniques.
Required Equipment
A camera body that you are familiar with.  This will usually be a DSLR or a mirror-less camera.  Ideally your camera should be capable of  burst mode, switching out lenses, manual mode, capturing images as RAW files, exposure bracketing, reviewing image histograms, and review of images in the field.   (We will cover how to utilize these functions in the workshop).  Please do not show up expecting instruction on how to use a brand new camera.  You should have some experience using the camera you bring to the workshop.

Please make sure your camera(s) have camera straps on them.
It is strongly suggested to have an electronic copy of your camera(s) owner manual on your smart phone, tablet, or have a hard copy with you.  It is nice to have an electronic copy that allows keyword searches.

Lenses:  Ideally you should have a 300 mm lens or longer, however, the settings where we will be photographing allow for great images with shorter focal length lenses!  In addition to a long lens(s), a landscape lens (16mm to 24mm) is helpful.

Please make sure your lenses have the lens hood on them.
Always have a filter on the front of your lens to protect it. A UV haze filter is the most common for this.
If you have polarizing filters for your lenses, please bring these.


Tripod.  A good stable tripod that you are comfortable working with.  Frequently a wobbly tripod causes the most headaches for photographers in these workshops.

Spare camera batteries and spare memory cards.

Warm clothes.  Dress in layers as the temperature will very greatly over the course of the day.  Expect anywhere from -15 deg F (or colder) to 50 deg F.  Warm boots, warm hat, gloves, and a warm coat that will keep you comfortable while standing still in the early morning are necessary.  Winds can sometimes be strong in this area.  A sun hat with a keeper string / tie is wise.

Headlamp or flashlight to see your camera settings in the dark.

Food, snacks, thermos with warm beverage, water. No alcohol please.
Suggested Equipment
Cable release or remote trigger to avoid camera shake for tripod shots.
Laptop, card reader, external hard-drive to backup your photos during the mid-day break.
Thermos with your favorite hot beverage (no alcohol please).
The camera manual for your specific camera.
Comfortable harness or strap system to hold your camera.
Binoculars.
Sun hat, sunglasses, and sunscreen.
Expected Physical Demands
Walking with your tripod and camera gear for approximately 200 yards, at most.
Standing in a cold environment for periods of 2 hours.
Very little walking or hiking as we will be photographing very close to our vehicles.
Homework Assignment (Due before the workshop)
Please review the pre-workshop study guide before the workshop,
Please submit your pre-workshop survey,
Please read, sign and e-mail (preferable) the signed PDF of the waiver, or mail it to me at
In Light of Nature
PO Box 2697
Santa Fe, NM 87504-2697