Dear Squirt,
As you lay next to me this morning, wrapped in blankets and your white face warmed by the sun coming through the window, I am remembering the many years we have shared together.  You have always been a great companion, in fact, you and I had a "velcro" relationship.  You are a "Velcro Vizsla", and I am forever grateful you chose me to be the one you stick to.
When I drove out to Kansas to meet you for the first time I was initially surprised at your age.  You were much older than Vizzy and Berton, your soon to be Vizsla brothers.  Your reputation preceded you as the Midwest Vizsla Rescue adored you.  You were a very special Vizsla with a large number of followers.  You still are my old friend!
As we drove back to Santa Fe across Kansas I watched you sleeping and was blown away by your body of solid muscle.  Remember that wheatfield we stopped at and ran around in?  You were ready to go point out some birds and sure enough, you did! Here is a photo I saved of that first afternoon together, you were fast!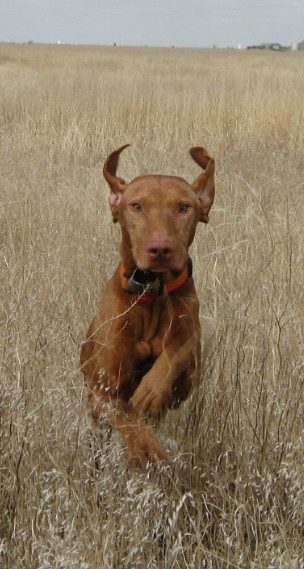 It was a long trip home and I was anxious to get to the Rocky Mountains and the public lands, so we could camp out peacefully on that first night together.  We made it to Southern Colorado in the dark and set up camp.  You were curious about what was happening and you trusted me enough to sleep right next to me.
We continued our journey the next morning over the mountains. You were in awe of this new landscape.  Big mountains and wide open spaces.  We stopped at the Taos Gorge and hiked a bit before pushing onto Santa Fe.  Vizzy and Berton were very happy to meet you and right away you showed those youngsters that you would be in charge.  They did not seem to mind a bit, as if they knew they were in the company of a famous strong Vizsla.
Your backstory was a mystery to us, as you were a rescue.  You looked as if you had been worked very hard and behind all the muscle was a sweet and friendly small Vizsla.  I assumed you were a hunting dog and perhaps did not have owners who treated you with the love you deserved.  Meghan told me that your old Vizsla friend, Gracie, still howled when she called out "Squirt".
Squirt on the left, Vizzy in the background, and Berton on the right.  Way up high on top of Santa Fe Baldy.
Do you remember the crazy time when I took you, Vizzy, and Berton backcountry skiing up by Taos?  You had only been in New Mexico a few days and here I was, like an over-ambitious father, hiking with an ice ax and crampons up a steep and icy snow chute.  I remember you stuck right next to me as I watched you grab on with your claws.  The younger and silly ones were already at the top of the climb and almost knocked us over as they decided to chase a pine cone all the way down to the bottom of the cliff.  That was a close call as they ran straight down the snow chute right by us!
I think that was the first time I noticed that you stuck to me all the time, no matter what.  Thank you, my old friend.
Squirt, Berton, and Vizzy enjoying the mountain views above Santa Fe.
Although Vizzy and Berton were always trying to be the center of attention, with all their endless running and gymnastics I must say that I always felt a warm glow when I looked over at you, also watching them, you were always smiling and often you sat with paws crossed in that classic Vizsla posture.  It was not just me that always noticed you.  You had a way of really gaining fans, without trying.  I think that was one of the most special things about you Squirt.  Humble, sweet, and totally loyal.
Chasing a Swallowtail Butterfly in the Taos Gorge
Considering all the places we hiked, biked, and skied together you never whined or complained, and you never got hurt.  We had that close call when you slipped off a boulder into the whitewater in the Rio Grande Gorge. Even then you did not make a noise.  I am so glad I noticed you were missing and we were able to hold onto each other and get you back to solid land.  That was close!
The Three Boys (Berton, Vizzy, and Squirt) were inseparable.  Squirt played the role of the adult in the group.
Sadly we all had to say goodbye to Vizzy.  I know you were just as shocked and devasted as I was about that.  He sure was a beauty and I know he learned a lot from you Squirt.  He looked up to you.  You let him and Berton play like the kids they were and when they needed some direction, you were great at teaching them.  I appreciate that.  Thank you.
Berton and Vizzy were like two peas in a pod.  Losing Vizzy was very hard for Berton.  I know you know this.  I just want to thank you for being a companion and friend of Berton during his time of grieving.  I think he is still grieving over Vizzy.  I am, and I am sad that he left us so suddenly at 9 years of age.  Nobody knew he had serious cancer going on inside his beautiful body.  When we buried Vizzy, I watched you go visit his grave a few times, giving your respects.  Thank you.
We were quite a team though!  The three of you guys were so much fun together.  Think of all the places we were able to see.  I will never forget these amazing times together.  The three of you made me feel alive and young.  I am so happy we took advantage of what we did together on our adventures.  Thank you.
Squirt was always a trooper.  Always had a smile on his face.
Time sort of slipped away on us though.  Didn't it?  It seems like just yesterday that we were hiking way up in the mountains or wading through trout streams.  The reality though is that was a long time ago.  You, my friend, have lived to a very old age.  People are amazed at how long you have lived.  We do not know your exact age, since you came to us as a rescue, however, the best estimates are that you are at least 20 years old and perhaps even 22 years old.
I think your strength and determination to always please me has let you live this long life Squirt.  As you lay next to me now, with your strong muscles mostly withered away and your body tired, I sense that you are still driven to be with me.  Don't worry friend, I am not going anywhere and I will stay by your side during this transition.  Each moment we get to spend together is so valuable now.
"Nurse Penny" taking care of Squirt. Penny watched Squirt's every move, helped him when he fell and licked his eye and sores he had.
Adopting Penny has been interesting, to say the least.  That energetic puppy really loves you.  She cares for you like a nurse, always licking that skin tumor on your neck, or cleaning your eyes.  It is like she is your guardian angel.  We call her "Nurse Penny" for the way she takes care of you.  When you fall down, she is right there to help.  I think you like her a lot.  I am worried at how much she will miss you, Squirt.  I will keep good care of her and Berton, do not worry.  They will always be thinking of you.
Yesterday, the three of you were laying in the sun on the warm dirt by your grave.  I know that we will all visit you there when you are at rest.  I want to put a nice stone bench and a couple of spruce trees next to your spot.  We will always be close to you, Squirt.
Melinda holding the Moon for Squirt.
You will never be forgotten, my friend!  Melinda, Ping, Penny, Berton, Meghan, John, Dr. Krogdahl, Dr. Merriwether, Katy, Chiqueeta, Pete, Will and Megan, Manuel, Miles,Shannon & Ray, Teo, Terence, and many other friends are thinking about you and sending you their love.  You will always be remembered as the handsome sweet boy that you are.
Did you know that your photo may have been put on a special bottle of wine to benefit Vizlsa rescue?   You are famous and I am so proud of you.
Remember that ski race we all did together?  You were super fast and the only reason you came in last was that you wanted to stay with me, while I was in the rear photographing.  Once again, my friend, you were also determined to be with me, as my "Velcro Vizsla".  You totally would have won the ski race if you were not looking out for me.  Thank you!
Squirt resting by the warmth of the woodstove.  Penny would always come to check on him.
I know it is hard for you now Squirt.  Your body is tired after living such a long and active life.  Remember how strong you were and how high you would jump at the back door?   Everyone always remembered you jumping like this.
Today as you laid in the sun next to me, you were very quiet and you slept most of the day.  Penny and I were very worried that this would be our last day with you by the woodstove.  I think that new medicine is too much and it is knocking you out.  Tomorrow we will go with half a pill instead.
You surprised me again though.  You got up, walked around out back, ate a whole bunch of chicken breast and had some dog treats.  Guess what?  You can now have as many treats as you want.  We just have to sneak them behind Berton and Penny, otherwise, they get jealous.
If you are in pain my dear old friend, please let me know.  As you know, the vet can come to the house to make the pain go away and we can say goodbye.  My heart hurts to think of doing that.  I hope instead you can run off to the rainbow bridge in one of your dreams.  Last night you were really running hard in a dream.  I hope that I am in your dreams, running alongside you and patting you when you stop for a rest.
I do know that you are in my dreams a lot.  I also feel you by my leg a lot, you know when you stand quietly next to me in your velcro mode.  I like that.  I like reaching down and patting you and pushing your snout against my leg.  Rubbing those big floppy ears of yours is also fun.  You like it when I rub your neck right behind your ears and you let me know by "talking".  We will do some more of that later this evening.
We both know that we do not have much time together.  I see you hanging on, and I know you are trying to make me happy as you always do.  When I move to another room, you get up and follow me there, even though you can barely walk now.  I see that Squirt.  You are completely devoted to me.  I want you to know that your unconditional love for me and companionship has been the best gift I have ever received.  I will never forget that, Squirt.  You are a very good boy, Squirt!
I wish that I could have spent more time alone with you, or together with you, Berton and Penny.  We liked it when you came on walks with us and we did not mind waiting for you.  We are going to miss having you along with us.  Please know that we will be thinking of you a lot, and for a long time.  Our memories of you will last forever.  Your sweet smile, you sitting with your crossed paws smiling as you watch the world go by, your strong muscles and the way you would jump, sleeping on the floor with you when you were having trouble getting up on the bed, watching you sleep in your little bed next to the heater in the garage, and most of all, realizing that you were always next to me and watching my every move. I hope you are still able to keep a close eye on me, Squirt.  Thank you!
Now, sleep peacefully Squirt.  I am right here next to you and will stay here with you, no matter what.  We are all around you and grateful for all you have done and what you taught us in life.  Our Velcro Vizsla bond is permanent.
Squirt's rescue ad.  I remember finding this and looking at each day for a week or two, then finally contacting Meghan and rescuing Squirt.  I am glad I did, and I am forever grateful that Squirt waited for me to rescue him.  Squirt, you were the perfect fit!
"Dogs are our link to paradise. They don't know evil or jealousy or discontent. To sit with a dog on a hillside on a glorious afternoon is to be back in Eden, where doing nothing was not boring–it was peace."      — Milan Kundera
(c) Ed MacKerrow / In Light of Nature, LLC.  All Rights Reserved.