Infanticide: An Ugly Side of Nature
Bears are beautiful to me.   I spend a lot of time around them and enjoy learning about them by watching their behavior and studying research on bears.  Over time my attitude towards bears has moved from fear of them to respect for them.  This is especially true for mother bears.
Mother bears perform all the work (birthing, feeding, protecting their cubs, and hibernating with their cubs).  Male bears search for females to mate with, but they eat, sleep, hibernate alone, and fight with other bears.  Witnessing the infanticide of a bear cub was a behavior I wished never to see.
Adult bears are also known to kill bear cubs, including cubs from the female they impregnated. This uglier side of nature, infanticide, and the killing of baby bears by an adult (usually male) bear, is something I never wished to witness.  In past years at Katmai National Park, I watched a couple of close calls where an adult tried to kill a cub.
Well, infanticide does indeed exist in nature and this past July I, unfortunately, witnessed a large male bear kill a cub, and then brutally attack the mother of the cub when she tried to intervene.  Infanticide does end up with the mother also being killed in some cases.
Why Do Adult Bears Kill Cubs?
There is no one simple answer to this tough question.  Research and observations currently consider three motivations for this behavior.
Sexually Selective Infanticide (SSI)




This theory claims that male bears kill cubs so the mother will no longer lactate and therefore be able to go back into estrus ("heat").   Flaws in this theory include:

There is no guarantee the infanticidal male will get to mate with the sow whose cubs he killed.
Putting the sow back into estrus does not guarantee that the infanticidal male will be the one mating with her, another more dominant male may end up mating with her.
Infanticide occurs outside of mating season.
Females sometimes kill the cubs of other sows.

Cubs as a Source of Food




Bears are cannibalistic.   Even subadult and small adult female bears can fall victim to predatory attacks by larger bears.  A cub may be considered an easy source of calories for a hungry bear.

Reduced Competition for Scarce Resources


Eliminating cubs is an efficient way to reduce competition for food resources and mating partners.
Infanticide occurs with bears, bobcats, mountain lions, and other mammals.
Knowing about something is much different than experiencing it up close and personal, 20 feet away!
This article tells my experience photographing a mother bear, referred to by NPS rangers at Katmai NP as "Bear 132", and her two spring cubs (born earlier in 2018).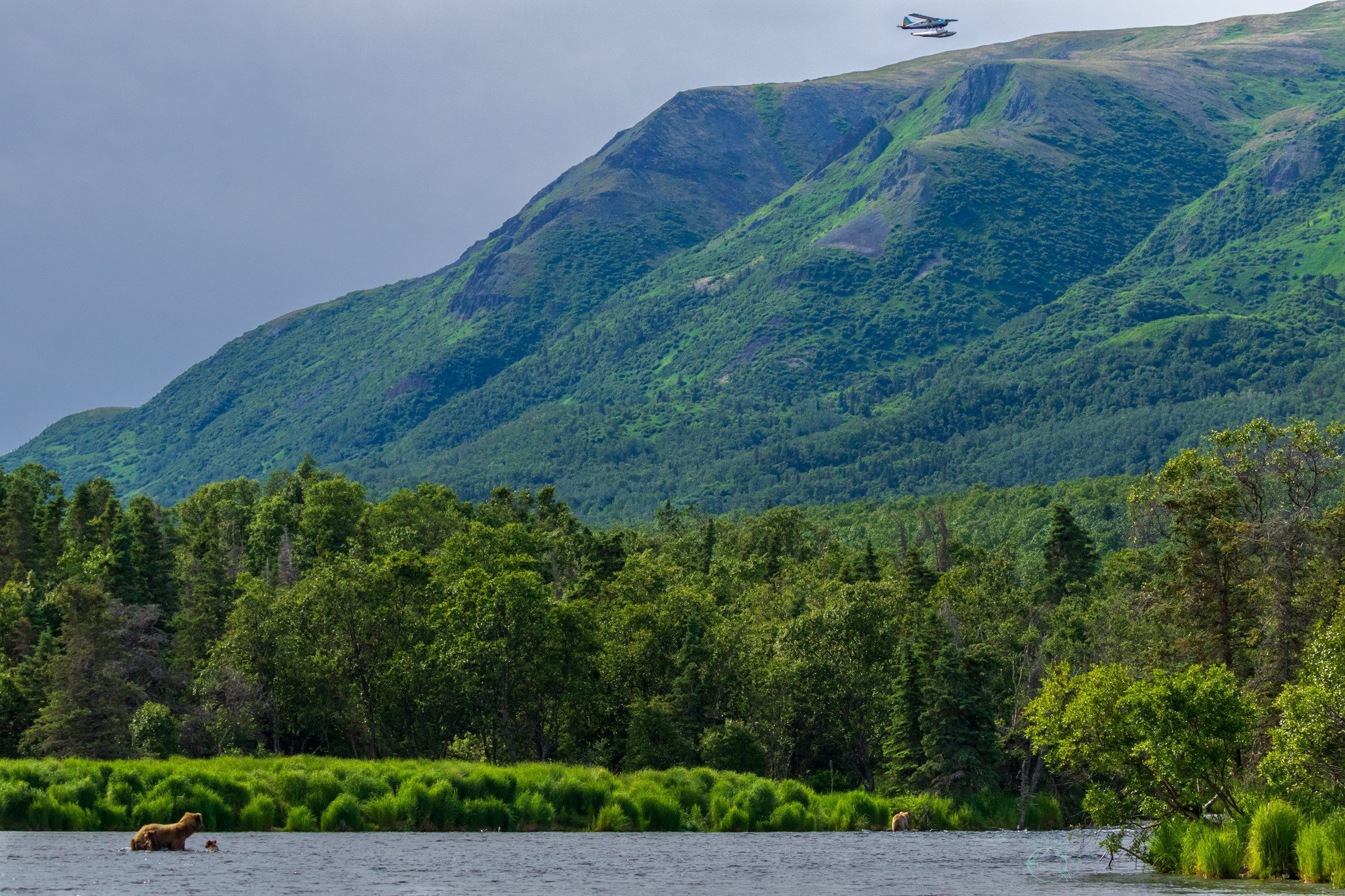 Just another beautiful day in July on the Brooks River.  Bear 132 and her cubs in a fairly safe area downstream of the falls, floatplane over Dumpling Mountain.
The event was disturbing.  I will not show many of the photos or videos I took of the event.
If you choose to read more below, please realize that I have tried to minimize the graphic photos.
Read More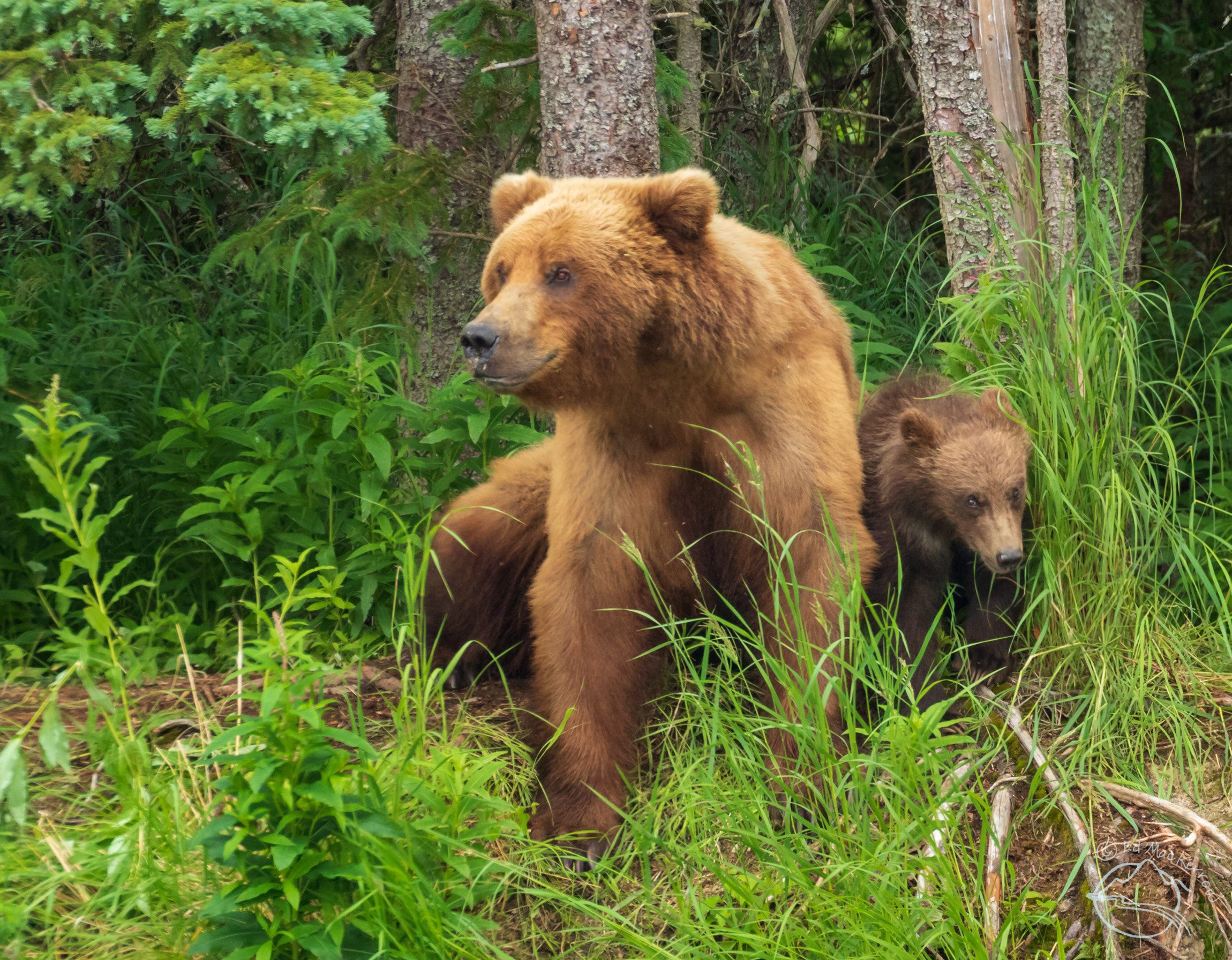 Bear 132 and her surviving cub 12 days after the attack. 
After experiencing this horrid event up close I have even more respect for bears as a species.  Now, for me, the value of a bear that reaches adulthood is even greater than it was before I saw the attack.  A mother bear invests a lot in raising her young.  Bears have some of the lowest reproduction rates among mammals, so even a few deaths in a population can have a significant impact on the entire species.
However, we as humans can help the bears survive is well worth it!
Bear 132 and her cub settled in for the night on the shore of Naknek Lake, 12 days after the infanticide attack by Bear 856 killed her other spring cub.
"In every walk with nature one receives far more than he seeks "
Follow In Light of Nature
In Nature we See the Light