High Autumn on the Alaska Peninsula
Fall is changing fast this year in Northern New Mexico.  As I write this post it is snowing hard here on the local mountains while the last gold leaves of the aspen shiver.
This year I have been blessed by experiencing an extended autumn season!  A few weeks ago I was camping high above colorful taiga forests and tundra on the Alaska Peninsula, in Katmai National Park and Preserve.  Although fall is a beautiful season in many mountain environs, these three weeks in Katmai are etched in as one of my best autumn experiences.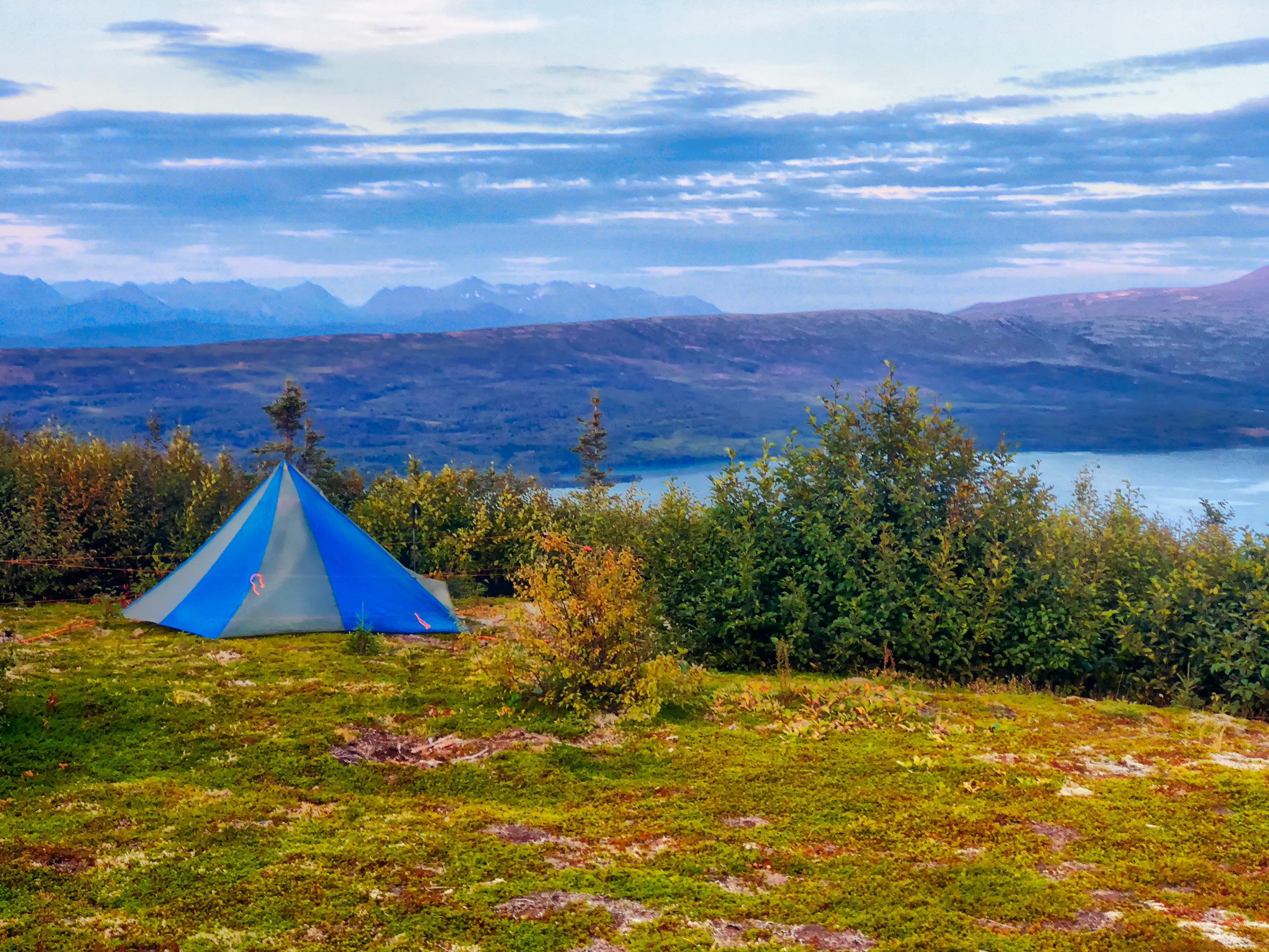 My camp on Dumpling Mountain was heavenly.  The tundra around my tent was decorated with tasty cranberry, crowberry, and blueberry. Tundra is soft and colorful.  Sleeping on it was comfortable and invigorating to wake up to its fresh smell.
Red, lime green, yellow, purple, and orange colors filled the landscape.  This time of year in Katmai the sun actually sets and it was dark between sunset at 8:45 PM and sunrise at 7:45 AM.  I like that better than the endless light here in June and July.  Sunrises and sunsets are more colorful, and it is easier to sleep in the dark of night. The temperature dropped noticeably with each passing day.  Seasons move fast in Alaska.
Each morning I awoke on top of a blanket of fog.  Quiet and peaceful in my lofty camp the fog below me looked like a huge glacier from the Ice Ages.  The higher peaks on the Alaska Peninsula rose proudly above this soft white blanket.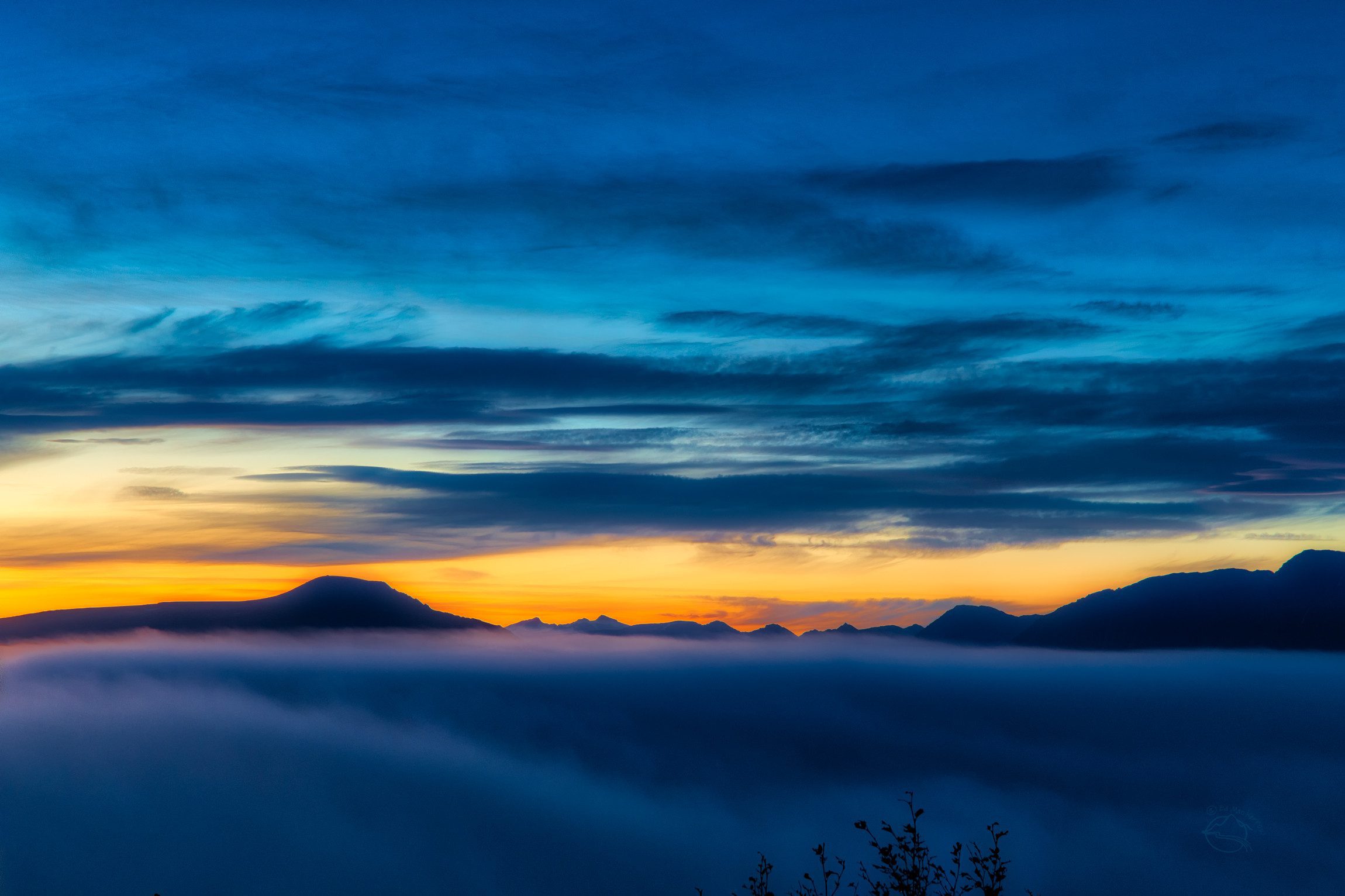 Dawn light above a blanket of fog.  Waking up to this view was a great way to start the day!  My camp was situated right at the fog level, sometimes I would be a few feet above or below it.
Hiking down into the fog each morning was a transition from brightness to darkness.  Bears were just waking up from their beds along Naknek Lake.  Dew soaked the forest.  By the time I reached Naknek Lake my pants were soaked from the descent through the wet autumn forest.  Breakfasts of tart highbush cranberry and soft watermelon berry fueled me as I hiked down each morning.
The sound of Sandhill Cranes surprised me late one morning when I stayed up on the mountain.  I was very far north, and it was late in the year to be hearing the telltale song of cranes.  As I scanned the sky to find the cranes, I actually found them flying below me.  What an incredible thing to witness from above, a large flock of Sandhill Cranes gracefully flying north.  Wait, north?  They should be going south this time of year!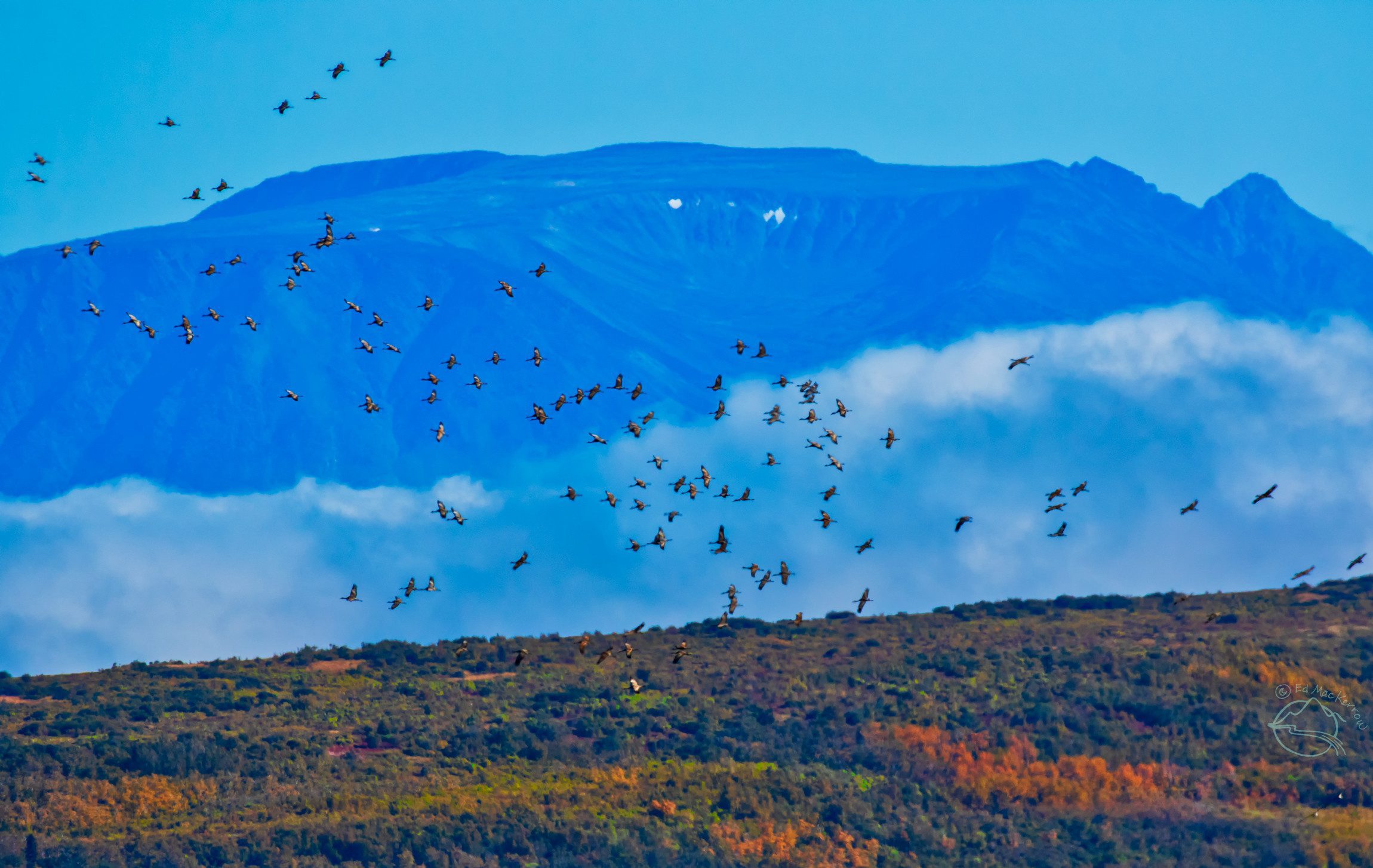 Sandhill Cranes gain altitude as they fly north over the shoulder of La Gorce Mountain.
The Sandhill Cranes I watched migrating to the north were heading towards the mainland of Alaska.  They avoid flying over long stretches of open ocean. These cranes first have to travel north up the Alaska Peninsula to reach the mainland, where they then can fly south to their wintering grounds.  These cranes are part of the Pacific Coast Flyway and spend their winters in the Central Valley of California.
Sandhill Crane populations and flyways in North America are shown here.  The cranes that flew below me on their way north were on the Pacific Coast Flyway (green on this map).  They fly north up the Alaska Peninsula to reach the mainland of Alaska before heading south to the Central Valley of California. Map from the United States Fish & Wildlife Service (USFWS).
Camping on Dumpling Mountain was a totally different world than Brooks Camp below me.  It was peaceful and serene.  I was away from the bears getting very fat on salmon, the float planes, other people, and all the other activity down below.
I admit it, I would rather be alone in the wilderness than around other people.  I am more impressed with the species Ursus arctos than I am with homo sapiens.  The bears are aware of the world around them, whereas most of the humans I observed were not. The bears know, and accept, their role in the greater picture, nature.  Humans tend to change and modify, versus cooperate and adapt to nature.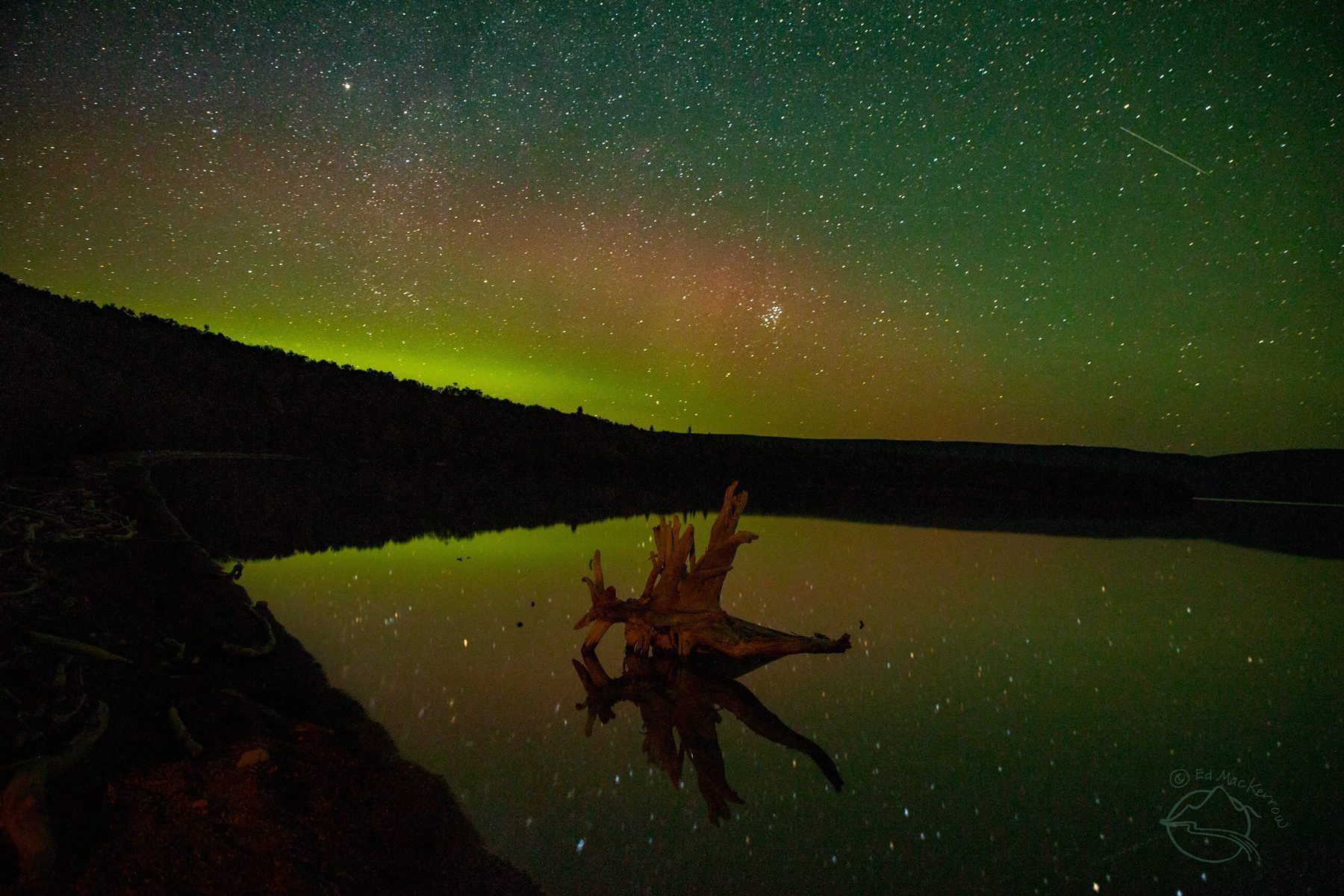 The Aurora borealis reflecting in Naknek Lake.
By the time I made it down off the mountain each morning the fog usually had burned off.  Some mornings I would leave my camp early, hiking down in the dark fog.  This was eerie and mysterious,  in a good way.  Bears were around, still sleeping at this early hour on the shoreline of Naknek Lake.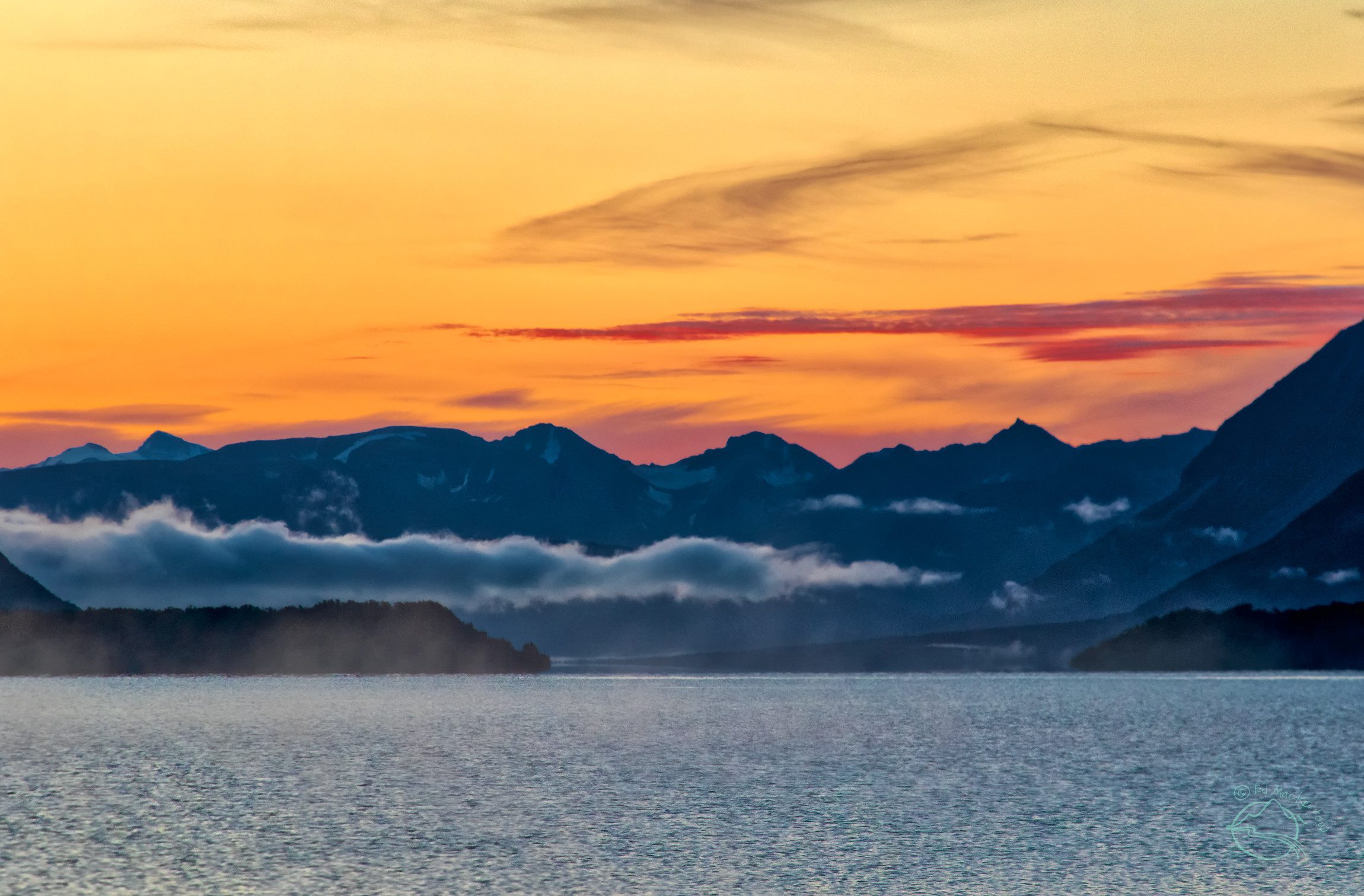 Sunrise as the fog lifts off the moraine that separates the Iliuk Arm from the main part of Naknek Lake.
Hiking in the dark while the bears sleep requires one to balance annoying the bears versus surprising them.  The ideal approach was to let the mother bears know I was a human and not another bear.  My headlamp was a big help in this regard. The mother bears would glance over my way, see that I was a human, and go back to sleep.
Only once did I upset a huge male bear sleeping.  I did not see him until I was too close and my headlamp woke him up.  He growled at me, something that has rarely happened to me, and gave me a look of annoyance, sort of like I must do when someone wakes me up from a deep sleep.  I apologized in a calming voice and continued on my way, feeling as if I was walking on eggshells at this point.  He went back to sleep as I continued on my way disappearing into the foggy forest.
On the mornings I decided to sleep in and wait for the fog to burn off I was eventually treated to some amazing lighting.  Anytime I am on the edges of storms, or in this case just above the fog layer, I see incredible natural lighting.  Sunlight glancing off the sides of clouds is a landscape photographers dream.
Fogbows formed on some mornings.  They are like rainbows, but are the result of light refracting and reflecting from very small water vapor (fog) droplets, instead of larger raindrops.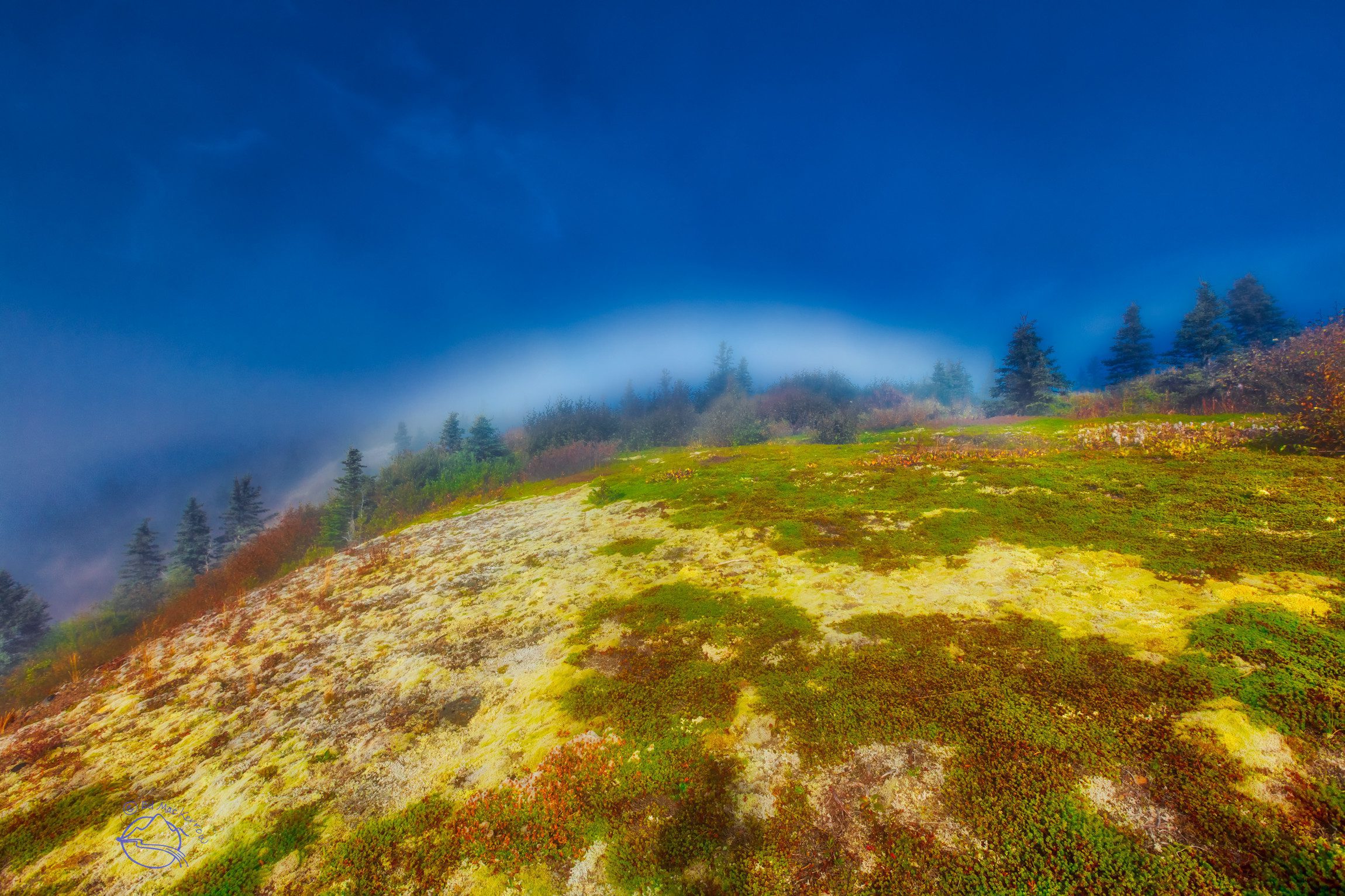 A low fogbow was seen one morning.  It is low in the sky since the sun was high in the sky — this photo was taken about 10 AM.  The tundra in the foreground is covered with low bush cranberry, blueberry, and crowberry. 
The small fog droplets result in an overlap between the light rays that are separated by color, via dispersion inside the droplet, and they reflect off the back surface of the droplet to your eye.  An observer of a fogbow usually sees a uniform arc of bright white light.  Since the light rays of individual colors overlap, the colors of the spectrum are recombined to white and are not seen as separate bands as they are for a rainbow.  When water droplets making up the fog are large enough some color separation can be seen, as in the photo below.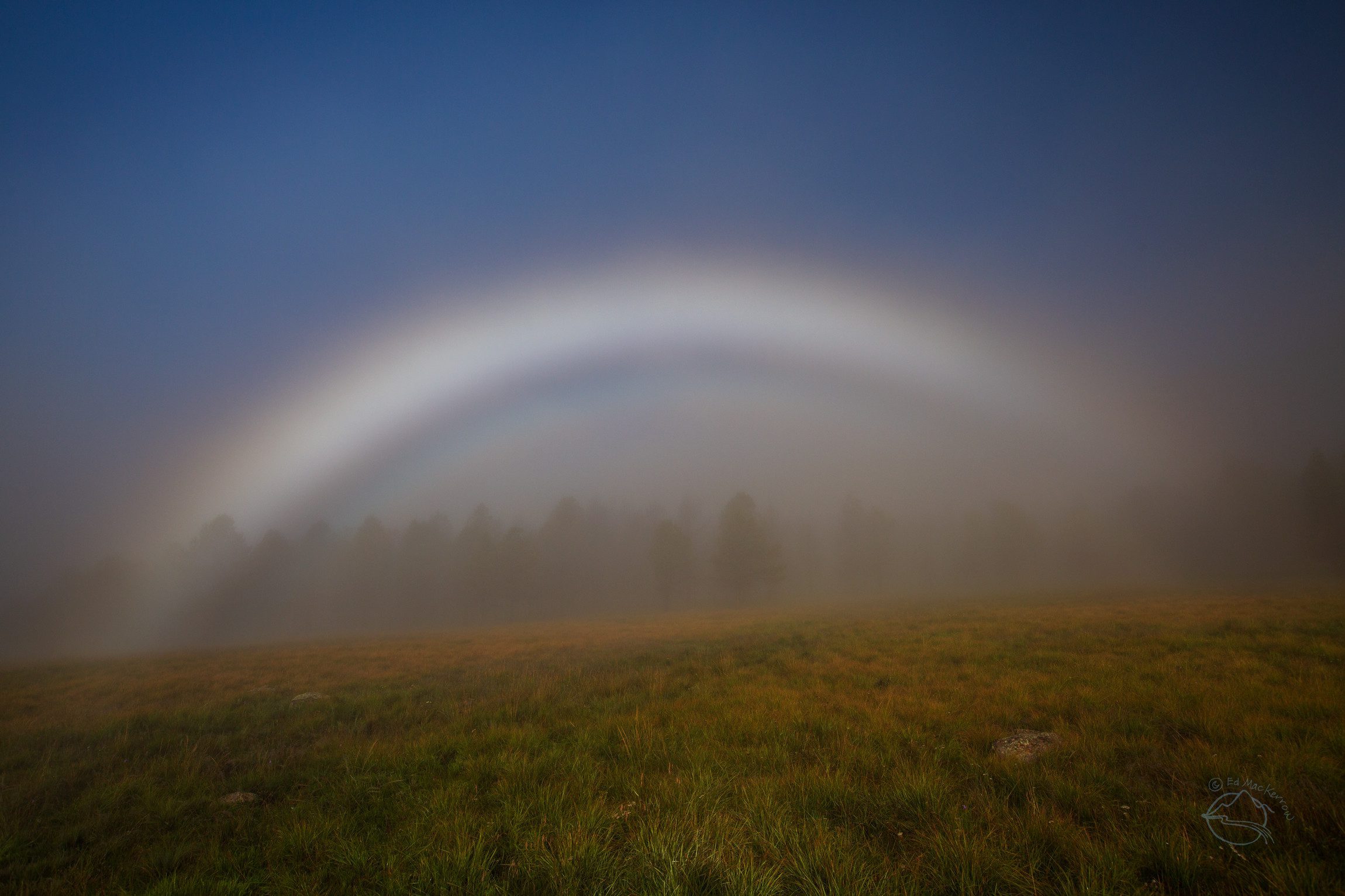 A fogbow I photographed years ago in New Mexico that does show some color separation. 
Not only was the landscape of Katmai beautiful this fall, but the bears were also beautiful.  Their coats were thick and rich with color.  The bears were fat and happy.  Salmon were easier to obtain now and the forest was full of berriers.  Hibernation was coming soon for them and they were gorging themselves on salmon, berries, and grass.  Many of the bears were obese, having doubled their body weight since I saw them earlier in June.  I did not recognize most of the bears I saw in June.  The tiny spring cubs were now large beach balls of fur and fun.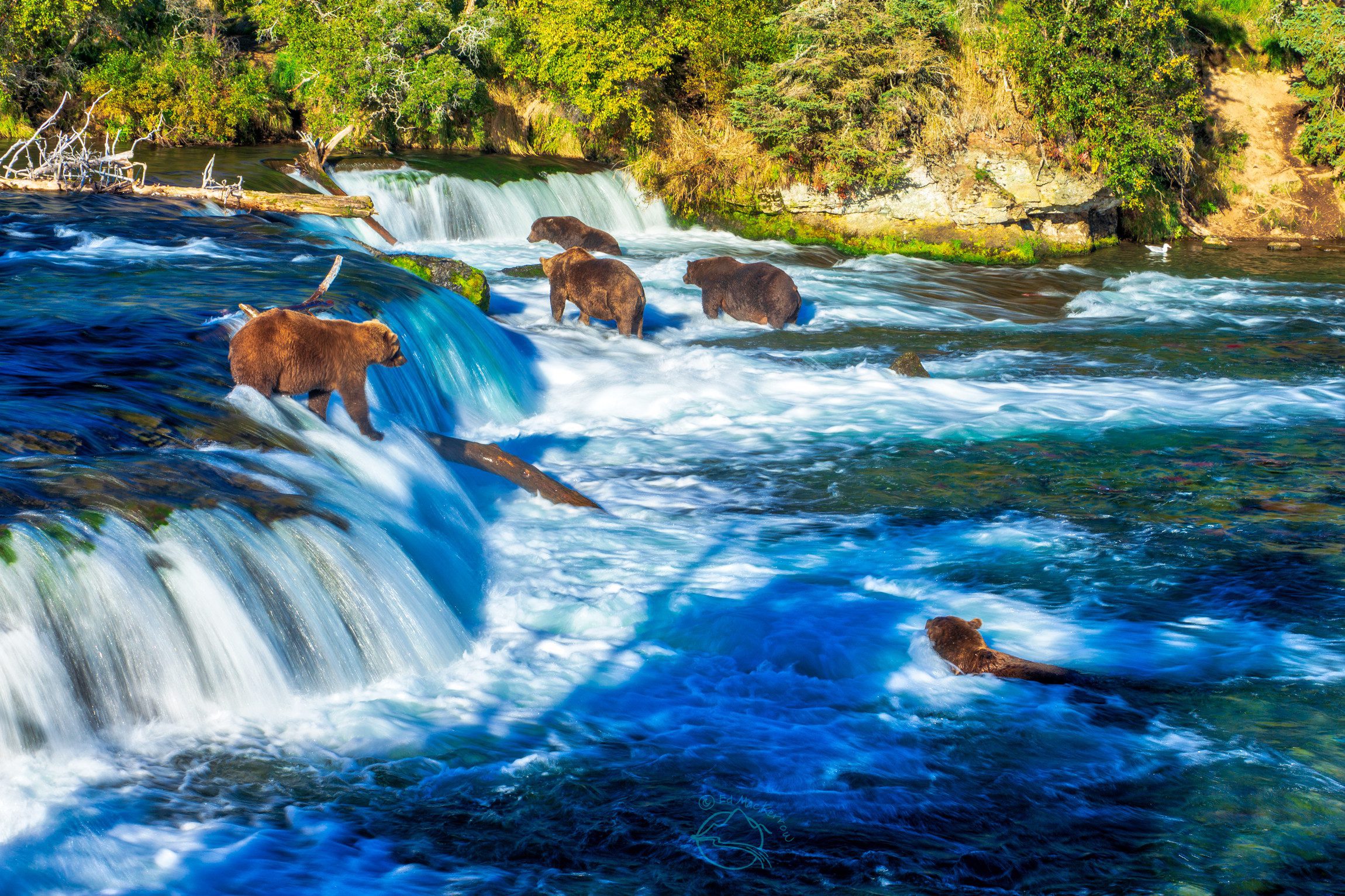 This year the salmon run kept going and going way into September on the Brooks River.  At Brooks Falls the larger dominant male bears posture for prime fishing spots.  Bright red sockeye salmon and darker silver salmon can be seen mid-river on the RHS of this image.
I am happy for these fat bears who have managed to consume enough salmon and berries to endure the long hibernation ahead.  They need all the calories they can get, as they burn about 4,000 calories a day during hibernation.  Most of their year, from October to May, is spent hibernating in a warm earthen cavity they dig under to protect against the deep snows and cold winds of winter high on the Alaska Peninsula.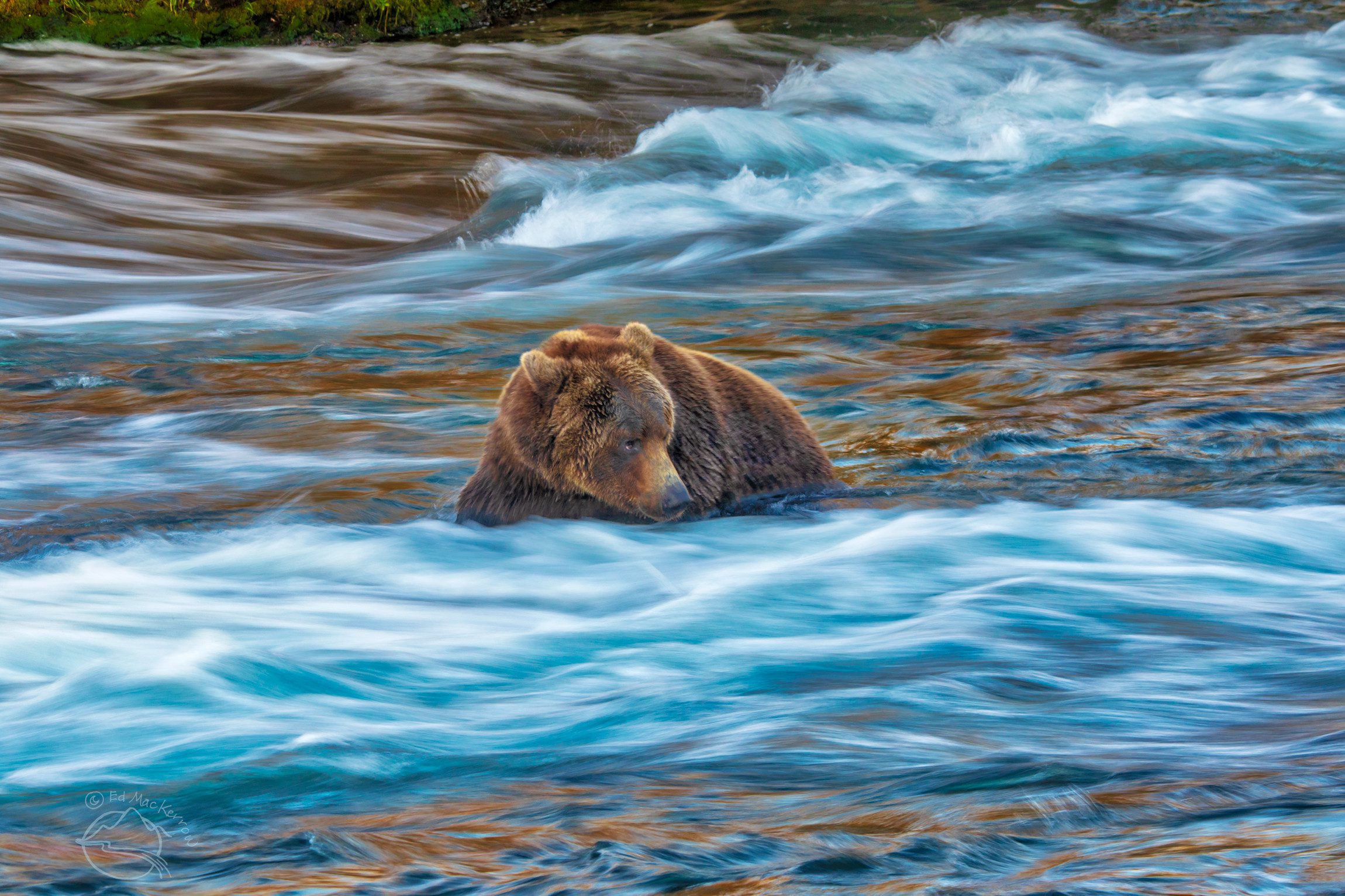 Enjoying the last days of autumn on the Brooks River.  Soon this bear will hike up Dumpling Mountain and dig its hibernation den.
Just yesterday I saw photos of bears heading to their hibernation dens from an Explore.org remote-controlled camera on top of Dumpling Mountain. They dig hibernation dens into the side of the mountain with their powerful claws.  Mothers will snuggle warmly with their cubs underground as winter's cold and snowy blanket insulates them from the frigid Alaskan winter.  Male and sub-adult bears will hibernate alone.   It will be a long and deep sleep.  Imagine all the dreams they have!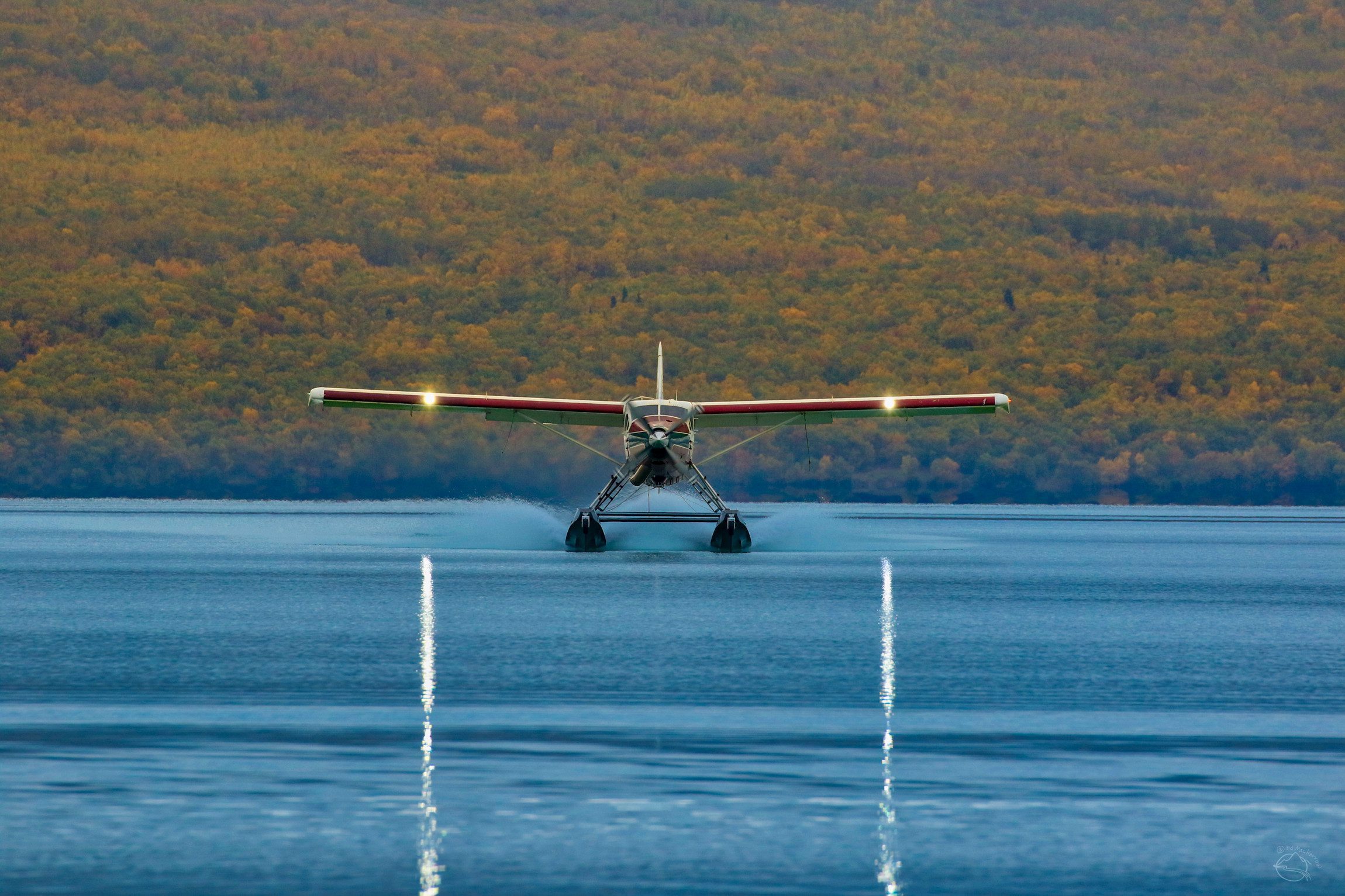 The float plane approaches for the flight out of Katmai.  It is always hard to leave Katmai, this fall was especially difficult to leave!
Eventually, it was time for me to leave this autumn paradise.  I considered staying on another week and attempt a solo packraft trip that I have been eyeing for years.  Although I was blessed with beautiful weather for most of September, bad weather started to show itself.  I probably made the right move by opting out of this packraft trip as the weather conditions worsened.  Next year!
The float plane flight out of Katmai was magical.  Dave, a friend, and incredible pilot flew a low-level scenic flight over a mosaic of colored tundra and colorful deciduous forests.   The flight lasted a long time as we swirled around above the tundra waiting for the cloud ceiling to lift so we could land in King Salmon.  I gawked out the window at life below me.  Mother bears with cubs were traversing huge expanses of brightly colored tundra and a moose waded into one of the many kettle ponds below me.
Each time I leave Katmai is harder.  If I did not have responsibilities and commitments back in the "real world" I would gladly live in this wilderness.
Now, back in civilization, I am readjusting to things after my fall in Katmai.  I miss the smells, colors, and sounds of the Alaskan autumn.  Daily concerns of where to explore and photograph, dodging rain showers and timing when to hike up to my camp, and drying out clothing are now replaced by a plethora of tedium.  Life is simpler up there.  My mind is crisper and my senses are more alive too.
As humans, we seem to think the bears have a rough life.  I see it the other way.  They live in the most beautiful land and experience all the vigor it brings to them.
Too bad I cannot hibernate now, avoiding the distractive and tedious life of "civilization", and wake up hungry in the spring like these bears get to do.
"Life starts all over again when it gets crisp in the fall. "
A family of brown bears, the mother is second from left, share a sockeye salmon as the bear family treads water and eat together in a remote part of Katmai National Park & Preserve.
Follow In Light of Nature
In Nature we See the Light